Answer: Your personal ISA allowance.
---
Since the start of the new UK tax year in April, our ISA allowances have risen to £20,000 (from £15,240 previously). This means investors will now be able to set aside even more money each year in their tax-free ISA accounts, which broadly fall into three categories – Cash, Stocks & Shares, and the new Innovative Finance ISA (IFISA).
The IFISA was introduced last year, extending the same tax-free benefits currently available to Cash and Stocks & Shares ISAs to investors on select P2P / Crowdfunding platforms as well (of which Property Crowd is one).
Before the introduction of the IFISA, investors arguably had just two options with regard to allocating their ISA monies – the low-risk, low-yield Cash ISA, or the high-octane, high-return world of Stocks & Shares. But the new IFISA has opened up a new range of possibilities: by circumventing the bureaucratic traditional banking system and using technology to directly match those with excess capital to those who require it, P2P / Crowdfunding platforms such as ours are able to offer investors robust annual returns whilst mitigating risks toward more cash-like levels.
Considering the fact that there is £518bn of accumulated ISA wealth in the UK and that over half of that (£275bn) sits in Cash ISAs, which on average offer little more than 1% p.a. of interest, it is obvious to us that investors value the return of their capital more than they do the return on their capital, which must hold even truer in these turbulent times.
But it isn't a binary choice. Not anymore.
Take Property Crowd's bonds, for example, which have thus far offered yields in excess of 10% p.a. on short maturities of 4 – 8 months, whilst further benefiting from being senior (i.e. first charge) debt secured against institutional grade UK real estate at conservative loan-to-values (LTVs) of less than 60%. With such attractive yields and significant collateral involved, one might argue that "you can have your cake and eat it too"[1].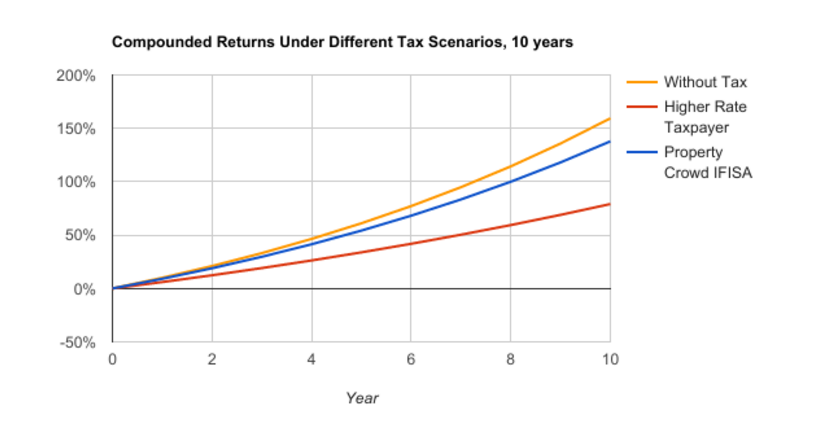 The proposition becomes even more attractive when you factor in the savings that a typical higher-rate taxpayer would now enjoy when investing in Property Crowd's deals via our very own Innovative Finance ISA (see chart above). Assuming an average 10% p.a. yield, a higher rate taxpayer would likely see a respectable c.80% return over a ten-year investment period. However, the same hypothetical investment in Property Crowd bonds, when held in our IFISA, would boost total returns to almost 140%.
Whether you're a savvy do-it-yourself investor, or an IFA or Wealth Manager advising on/managing your clients' portfolios, real estate crowdfunding is a fast-growing asset class that you should start taking seriously [2]. The risk-adjusted returns on these investment opportunities are very attractive, and become even more so when viewed in the context of a tax-efficient wrapper such as a SIPP/SSAS or the tax-free IFISA (which now benefits from an increased £20,000 allowance).
Please visit Property Crowd for more information on their investment opportunities. Your Capital is At Risk. 
---
Tax Warning 
Tax treatment depends on the individual circumstances of each investor and may be subject to change in the future. Your capital is at risk.
Risk Warning 
Investing in property involves risks, including illiquidity (the inability to sell assets quickly or without substantial loss in value), lack of dividends, loss of investment and dilution, and it should only be done as part of a diversified portfolio. Your Capital is at Risk.
Sources 
[1] https://www.propertycrowd.com/high-yield-with-capital-preservation-asset-backed-debt-could-mean-having-your-cake-and-eating-it-too/
[2] https://www.propertycrowd.com/why-ifas-and-wealth-managers-should-start-taking-real-estate-crowdfunding-seriously/